Super Luxury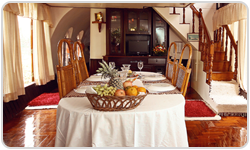 If it is overall comfort and pampering that you are after, then "Super Luxury" is definitely the boat for you. Airy living rooms, elegant staircases leading to an upper deck with dining room, full time air-conditioned gorgeous bedrooms with bathtub and standing shower. A muti-linguistic personalized Butler to attend to your diminutive requirement and serve you the bountiful food to suit your frame of mind on the back waters. This Houseboat is nothing short of sheer and absolute luxury of the highest available echelon. This package also includes the choice of a short ride on the canoe through the narrow canals on the backwaters.
Itinerary
The standard check in time is 12:00 noon.
The cruise begins to meander through the canals and the backwaters which will slowly mesmerize you to the traditional beauty and culture.
One can see fine and virgin ravines and rivulets, virgin landscapes, long stretches of winding canals and waterways dotted by tiny hamlets and lush green paddy fields manned by scarecrows, and unimaginable village life.
There will be a break for an hour and a half that's when your traditional Kerala lunch will be cooked and served.
Your cruise will be on until 5:30pm evening when the boat will be anchored on the shore of the lake.
At around 8:00 pm, your chef will serve you a wholly personalized dinner.
You can enjoy a good night's sleep, and dream all you want of your 'Dream Cruise'………….
If you are an early bird….you can catch the glimpse of a charismatic sunrise.
Soon, it is the time for your delicious breakfast Cruise.
At around 9:00 am disembark at our jetty with memories still lingering 'A Fresh………..
Package Inclusions
Welcome Drink (Tender Coconut or Fruit Juice)
Lunch / Tea Snacks / Dinner / Breakfast (Traditional Keralite
Food Menu with Veg & Non Veg Options)
Garland / Fruit Basket
Cake & Candle Light Dinner
Canoe Ride & Village Walk (Optional)
Book Today & Avail Special discount